Top-5 Genius Playcalls of the Gus Malzahn Era
Lucky Number Sleven describes a Kansas City Shuffle as getting everyone to look one way, while you go the other way. Gus Malzahn's Auburn teams have utilized this concept to perfection. Gus Malzahn gets everyone going one way; then, at the perfect time, Gus and company go the other way.
Play calling is almost an art-form. The right play call can win or lose a game. You have to know the weapons you have, how those weapons have been preforming at crucial times, and how susceptible the opponent is to different situations. While Auburn play calling is not perfect, it has shown flashes of genius with Gus Malzahn at the helm.  Here are 5 examples of such occurrences.
Honorable Mention – K-State 2014
On a tough Thursday night road game against an unfamiliar opponent Auburn had struggled offensively. Dropped passes, low throws resulting in tipped passes, and no running lanes resulted in a headache for the Auburn faithful.  The defense had played well, with the exception of terrible pass interference calls and not being able to cover Tyler Lockett. Auburn was clearly the better team in this game, but they weren't playing like it.
Even so, Auburn had found themselves with a 20-14 lead late in the fourth quarter. With K-State out of timeouts and just over 2 minutes on the clock, Auburn had a tough 3rd and long. Nick Marshall finds Duke Williams wide open down the left side and seals the victory for the tigers. This play call shows trust that this coaching staff had with this group of players. The coaching staff knew that getting Duke 1-on-1 would likely result in a first down. Nick Marshall's pump fake absolutely exposed the secondary and Duke was wide open.
(Side note: I met Steven Clark in the stands after this game. Super nice guy) 5. Eli Stove Jet Sweep vs. Arkansas 2016
This is a great play call because Auburn did their homework. Auburn knew that Arkansas gave up about 5 million yards on the ground in 2016. Auburn also watched Alabama run the same play successfully multiple times against Arkansas. This run set the tone of the game. It was Auburn's first offensive play in a 56-3 beat down against the Hogs. Auburn did little wrong in this game. Stanton Truitt blew the lid off of this game. Kam Martin, a true freshman, had a 50-yard touchdown run for good measure. Personally, the most beautiful thing about this game was the fact that Arkansas had a bye week after this game, so they had to sit on this loss for 2 weeks. Living in Central Arkansas and listening to local sports-talk radio made for the best 2 weeks of commuting I've had. 4. "The Lutzie"
This is the perfect example of a Gus Malzahn Kansas City Shuffle. Auburn runs a fake sweep to the right. The linemen block right, the running back blocks to the right. The linebackers follow the offense. Everyone on the field is headed to the right. Everyone except Philip Lutzenkirchen. Lutz releases from his block and runs a drag route across the face of the defense to the left and Cam Newton delivers to the wide open Tight End. A legend was born this day.
3. 4th & 3 in the 2010 Iron Bowl
It was early in the 4th. Auburn has a 4th and 3 on the Alabama 47. The smart thing to do in this situation is punt, play for field position and live to fight another play. If Auburn doesn't convert this 4th down attempt, Alabama has the ball in great field position only needing a field goal to take a 2 score lead.
Yet, Malzahn had everyone fooled on this day. Auburn lines up in a pooch punt formation. Even Gary and Verne in the CBS booth called for a Cam Newton pooch punt; a shockingly wrong assertion. Alabama is playing safe in the event that Cam doesn't punt. Cam takes the snap and fires a dart to Davrin Adams for a first down in what would result as the game winning scoring drive. The genius of this play call is magnified by the play in the #4 spot on this list. The Lutzie never happens unless Malzahn has the guts to call this play. 2. Sammie Coates Ties the 2013 Iron Bowl
Auburn was down a touchdown with less than 1 minute left. On this particular drive, Auburn had already had 6 runs by Tre Mason; however, there wasn't enough time to keep running the ball against a tired Alabama defense.
Gus knew this, so he called for a Run-Pass Option. Nick Marshall was to fake the hand-off to Tre Mason and either run the ball himself, or pass the ball to the receiver. This wasn't the first time that Auburn had run this play. When Auburn played Mississippi State earlier in the year, they ran this exact same play, but Nick Marshall held on the ball too long and a defender tipped it (coincidentally landing in Nick Marshall's hands and ended up in a 37 yard gain).
This was a great call in the Iron Bowl because the defense was not expecting a pass; and why would they? Alabama expected Auburn to use their 3 remaining timeouts and get at least 1 more first down before taking shots at the end-zone. The defense fully expected Nick Marshall to keep the ball, which is why the corner and linebacker are frozen in place as Nick lobs the ball over their heads to a wide open Sammie Coates. This excited everyone in attendance, including the ball boy following Coates, that was fist-pumping so hard he almost got invited to join the Jersey Shore. 1. The Kick-6 – 2013 Iron Bowl
This is situational play calling at its finest. Everyone in Tuscaloosa or with a low football IQ thinks that Auburn got lucky on this play. However, if they were paying attention in the moments leading up to this, they'd have seen Ryan Smith going to attempt to catch a miss. Instead, Gus calls a timeout and puts Chris Davis in and the rest is history.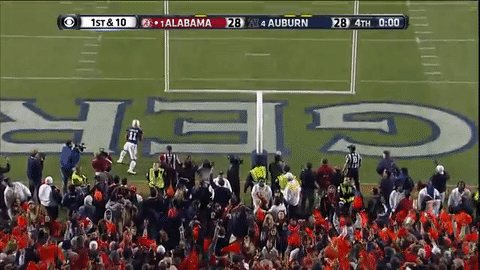 Thank you for reading, please join the conversation or request a list you'd like to see by signing up for The Barn.