Top-10 Defensive/Special Teams Touchdowns
Defensive/Special Teams touchdowns can change the outcome of a game. They're very exciting to see because they're so unexpected. I've compiled a list of 10 times Auburn has scored on Defense or Special Teams.
10. Monty Adams – Mississippi State 2016 Montravius Adams never quit on any of his plays in the 4 years he was on the plains. With Auburn already up by 28, this touchdown had very little to do with changing the outcome of the game; still, Adams picks the ball up at the 13 and sprints as hard as he can even though he has a sure touchdown to put Auburn up by 35 before the half. In a game where Auburn did very little wrong, it was nice to see Adams get rewarded for his career of hard work.
9. Tre Mason – Washington State 2013 After this game Conner Halliday said "They run the ball real, real, real well…That running game was something very, very impressive." Conner was right. In 2013, Auburn had one of the most successful ground attacks in college football history; however, it was Tre Mason's 100 yard kick return that ignited the tigers in the win against the cougars.
8. Kick-off/Fumble Return – Florida State 1984 Ed Graham's fumble return is a thing of beauty.
7. Robenson Therezie – Ole Miss 2013 Robenson Therezie made a spectacular catch and used his speed to put Auburn up 13-3. With Ole Miss driving late in the first quarter, Bo Wallace made his first mistake of the night. Auburn used the momentum from this mistake to build a 27-9 lead. Ole Miss made it interesting, but Auburn held on for the 30-22 win.
6. Quentin Groves/Antonio Coleman – Kansas State 2007 Quentin Groves registered the sack. Antonio Coleman picked up the ball to seal the the win against a pesky Wildcat's team. Auburn's offense struggled all day. Brandon Cox had 2 interceptions. As a team, Auburn rushed for 62 yards, but it was 3 field goals by Wes Byrum and this TD by the defense that sealed the win for the Tigers.
5. Walter McFadden – Northwestern 2009 Mike Kafka threw 5 interceptions in this game. Walter McFadden made a great play on the ball and was all alone for 100 yards. Auburn blew two 14 point leads in this game, but still squeaked out an OT win that began a 17 game winning streak.
4. "The Interception Game" – LSU 1994 Ken Alvis, Fred Smith, and Brian Robinson all had a pick-6 in the 4th quarter of the 1994 Tiger Classic. LSU began the 4th quarter with a 23-9 lead, but the aforementioned pick-6's along with 2 other interceptions gave Auburn a 30-26 victory.
3. Punt Block and Fumble Return – Florida 2006 In Tim Tebow's first loss to Auburn, a botched snap lead to a blocked punt that ended with Tre Smith flipping into the end-zone. This gave Auburn a 18-17 lead. John Vaughn added a field goal with :31 seconds left. On the last play of the game, a terrible attempt at a lateral would lead to a Patrick Lee touchdown. This left the Gators with a broken heart. They'd try an avenge this loss in the 2007 season, but freshman Wes Byrum would have none of it. Tebow still hasn't beaten Auburn.
1. "The Kick Six" – Alabama 2013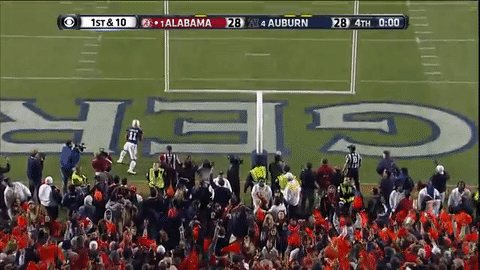 Do I really need to explain this one?
1a. "Punt Bama Punt" – Alabama 1972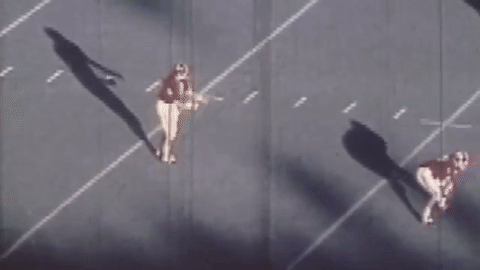 The famous 17-16 game. Alabama was a 14 point favorite, ranked #2, and undefeated. Alabama had a 16 point lead in the 4th quarter. Alabama saw their lead trickle away as Auburn blocked 2 punts. David Langner ran into Auburn lore on this day. In the years since, this game has been ranked #55 of the 100 most defining moments in CFB (ESPN), #85 of 100 Greatest Finishes (Collegefootballnews.com), 8th most painful outcome (ESPN), #and 1a on The Barn and WarBlogle.com (me).
As always, join the conversation in the Barn by signing up and providing your input. Let me know if there are any other lists you'd like to see.