A Focus on 3rd Down
To be successful, Auburn needs to improve on 3rd down, specifically in the passing game. In 3rd down situations of 1-3 yards to gain, Auburn ranked 2nd in the nation when they ran the ball and 72nd in the nation when they passed the ball. When the yard to gain was 4-6 yards away, Auburn ranked 14th in the nation in rushing and 93rd in passing on 3rd down. This isn't a surprise because Auburn was a run first offense last season. The real issue is 3rd downs of 7-9 and 10+ yards. In 7-9 yard situations, Auburn was 112th in rushing and 98th in passing. in 10+ yard situations, Auburn ranked 83rd in rushing and 97th in passing.
With Chip Lindsey and Jarrett Stidham coming to the Plains, Auburn has been adamant that they will have a stronger focus on passing. We all saw what Stidham could do in the spring game, if you forgot, here are some examples.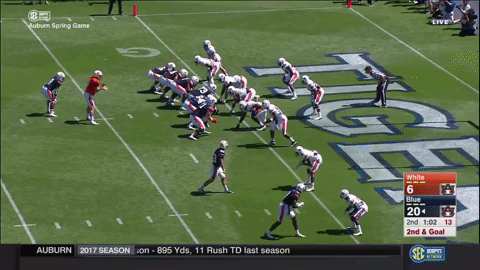 Where Lindsey can help is in the 3rd and 10+. Last season Auburn was 97th on third down with 10+ yards to go when passing the ball; However, Lindsey and Arizona State were ranked 22nd in the same situation. For Auburn to maximize their success, they need to be better on 3rd down, limit the amount of 3 and outs they get, and have big time players make big time plays.
Follow @WarBlogle and @kwren34 for more Auburn news and banter. Sign up and join the conversation, comment below on where else you'd like to see Auburn improve.