5 Heartbreaking Moments in Auburn Football History
Every team has had moments in their history of heartbreak. It is an inevitability of the sport. This, however, does not make anything on this list easier to digest. Presenting 5 Heartbreaking Moments in Auburn Football History:
5. The Entire 2012 Season
Coming off an 8-5 season in 2011 and just over 1 year removed from the national title victory against Oregon, Auburn had garnered much anticipation for a successful season. Gus Malzahn had left to coach Arkansas State and Gene Chizik replaced Gus with Scot Loeffler (who, incidentally, may be the biggest tool to ever work for the university). Hindsight shows that this was clearly a disastrous move. Auburn had recruited a specific type of player to run Gus' offense; which was replaced with what was supposed to be a power run offense. Basically, they tried to fit a square peg in a round hole.
Even so, big things were expected from Kiehl Frazier leading the team at QB. However, what ended up happening was a complete disaster. Auburn started off with a loss to Clemson in the Georgia dome and then proceeded to a win-less SEC season finishing up with a 3-9 record. This season caused Gene and Co. their jobs and ushered in Gus and the HUNH era.
4. Flynn to Byrd – Auburn vs. LSU – 2007 I remember watching this game at a sports bar in Kansas City. To this day Demetrius Byrd is still my least favorite LSU player. Still, Auburn won 9 games that year including games against Florida, Clemson, and Alabama. However, this is the worst moment Auburn has had in Baton Rouge since the Earthquake Game.
3. The Earthquake Game – Auburn vs. LSU – 1988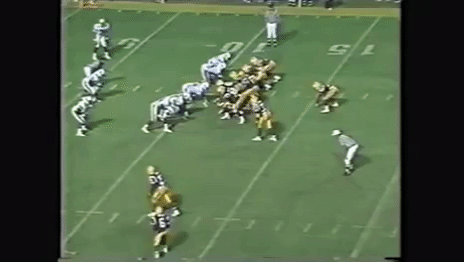 Auburn came into the game undefeated and ranked #4 in the country. Auburn lead LSU 6-0 with less than two minutes remaining. On 4th down Tommy Hudson found Eddie Fuller open in the endzone to tie the game. Auburn lost 7-6 and dropped out of the top ten as a result. Auburn finished the season with only 1 more loss to Florida State in the Sugar Bowl.
2. Van Tiffin's Game Winner – Iron Bowl – 1985 Auburn was 8-2 and Alabama was 7-2-1 in the 1985 season. Auburn had just scored and missed a 2-point conversion attempt. With less than one minute remaining and down 1 point, Mike Shula hit Greg Richardson who was pushed out of bounds at the 35-yard line. Van Tiffin then enters the game and drains a 52-yard field goal as the clock reached all zeros to give Alabama a 25-23 victory. Last second field goals hurt; however, they hurt even more when it's in the biggest rivalry game on the planet.
1. National Championship Loss – Auburn vs. Florida State – 2013 Auburn shocked the world by winning the 2013 SEC Championship and earning a spot in the final BCS championship game. Auburn played well and fought hard like they had all season. With 1:19 left, Tre Mason bounced off defenders to a 37-yard touch down run giving auburn a 31-27 lead. Jameis Winston then lead the Seminoles one last time in this game and hit Kelvin Benjamin with 13 seconds left to give Florida State the lead resulting in an Auburn loss that still hurts to think about to this day.
I hope this list didn't break your heart all over again. As always comment with your opinions or similar lists you'd like to see in the future.